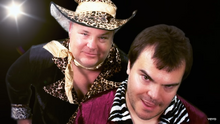 Low Hangin' Fruit is a song by Tenacious D which appears on their third album, Rize Of The Fenix (album). On release of the album, Tenacious D and Sony Music Entertainment recruited Liam Lynch to produce a music video. The music video appears on the deluxe version of the album, as well as through the VEVO music streaming service.
Music Video
The video features Black and Gass appearing in-front of animated fruit and dancing, whilst making sexual gestures and hints.
VEVO Go Shows
Tenacious D appeared on the VEVO Go Shows series performing the song, acoustic, at Ribs USA in Burbank, California. The Go Shows series typically features a famous artist performing at a small location. The Ribs USA concert was organized through the local KROQ radio station. The band performed a small set both inside of the restaurant and outside for the fans who couldn't make it in.
Trivia
The band performed this song on an episode of The Tonight Show with Jay Leno on the 18th of May 2012, wearing the same costumes as used in the music video.
In the wake of the November 2015 Bataclan Theatre terror attacks, Black and Gass auctioned off their costumes from the music video in January 2016, supporting the victims and their families.
Gass notably got inspiration from Dave Grohl to produce the song, after Grohl told him, "don't bore us, get to the chorus".